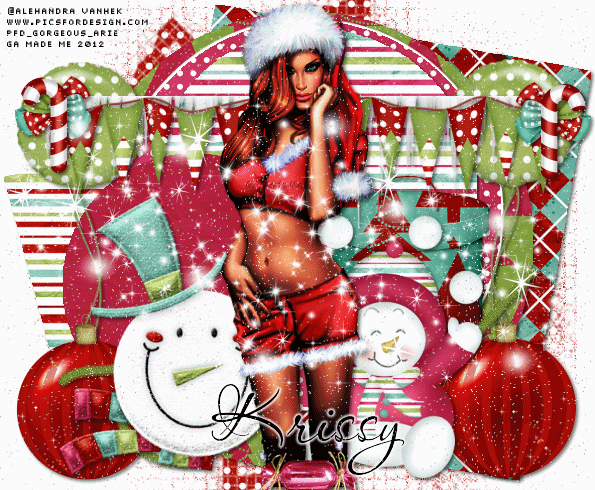 ARTWORK: Artist @ ALEHANDRA VANHEK
In Order to use the image in this tutorial you MUST purchase it from PICSFORDESIGN.COM
PSP 9 (Any Version Will Work)
SCRAP KIT: ChristmasCheer From Krissy
MASK: Aqua mask no 16
TEMPLATE: Missy Template No 379
FONT: Aquarelle
Okay Lets Begin!
Open new canvas 550X550
Paste paper 1 as a new layer.
Activate your mask
Go to load/save mask
Load mask from disk
Find your mask and click load.
Open your template.
Colorize to your liking with the paper of your choice.
Paste a tube of your choice as a new layer.
Place to your liking then paste your elements as a new layer.
Elements are
bunting strip 1
striped christmas bauble 1
string 3
snowgirl 2
snowman head 1-felt
polkadot helium balloon 3
bow 1
hat gift box 3
mini plastic candy 4
candy cane 1
lcicles 1
my sparkles
Pls resize to your liking.
Use my tag above as a guide.
I resize all my elements to 30% to 50%
Dont forget to put drop shadow of choice to all layers.
Add your name and copyright info
Now will go for my snow animations thingy lol
very easy :)
open your snow animation in animation shop
they have 10 frames
open your tag and duplicate them till you
have 10 frames
then go to your snow click copy
then go to your tag paste into selected frame
Lastly view animation saved them as gif
You are done!
Thanks for trying my tutorial.
***Gorgeous Arie 2012***
You are done!